Earn Your MSW Online at Howard University
Earn Your MSW Online at Howard University
Earn Your MSW Online at Howard University

Become Part of a Legacy of Excellence
Since our founding over 85 years ago, the Howard University School of Social Work has been a leading force in the struggle for social justice. We are committed to educating advanced social work practitioners who are guided by knowledge of sociocultural and historical context, emphasizing their unique strengths, and the lens of the Black Perspective.
We build on this legacy in all that we do. Howard MSW Online, our online Master of Social Work (MSW) program, is the next step toward a future where students everywhere can attend a leading historically Black university (HBCU) and become architects of liberation in diverse communities and professional contexts.
Online MSW Admissions
Howard MSW Online enrolls individuals who show potential to become leaders in the social work profession. We maintain the same admissions standards for our online MSW program as we do for our on-campus master's degree program.
Application Requirements
Online application
Current resume
Transcripts from all previously attended institutions
Personal statement and application essay
Three letters of recommendation
No GRE score is required to apply.
For more information on application requirements, visit our admissions page.
"We're looking to explore success — we seek out our students' potential, not what they don't bring to the table. We're looking for students who have the passion to become social workers."
– Dean Sandra Edmonds Crewe
Traditional MSW (60 Credits)
Complete part time in as few as 36 months. Complete full time in as few as 16 months available in September 2023. A bachelor's degree is required.
Advanced Standing MSW (45 Credits)
Complete part time in as few as 24 months. A Bachelor of Social Work (BSW) is required.
The final deadline for the May 2024 cohort is April 1, 2024.
Ready to get started?
Curriculum
Our online MSW curriculum is grounded in the Black Perspective: a framework that articulates how oppression, self-determination and culture inform our service of individuals and communities. We challenge students to engage with social justice, criminal justice reform, health care disparities and other topics with attentiveness to their sociocultural and historical context.
As a result, our graduates are equipped to serve Black and marginalized populations in a range of contexts, and transform oppressive systems into ones that sustain and uplift their communities.
3 or 4
Field Education Courses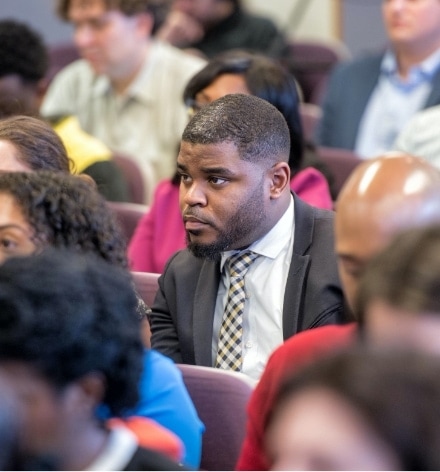 Traditional MSW
This track requires a bachelor's degree from a regionally accredited college or university, with a minimum of 60 credits in the liberal arts. There is no minimum undergraduate GPA requirement. Complete full time in as few as 16 months available in September 2022. Complete part time in as few as 36 months.
60 credits
1,000 hours of field education (52 weeks)
4 field courses

Advanced Standing MSW
This track requires a BSW from a CSWE-accredited institution (awarded within four years of your term start date), and a 3.0 cumulative GPA in all social work foundation and undergraduate coursework. Complete part time in as few as 24 months.
45 credits
777 hours of field education (39 weeks)
3 field courses
Direct Practice Concentration
Develop assessment, intervention and evaluation skills so you can work with individuals, families and groups. Your coursework will include courses such as:
Direct Practice Assessment
Intervention Planning & Strategies
Psychopathology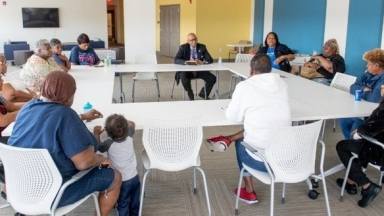 Community, Administration and Policy (CAP) Practice Concentration
Prepare to transform systems and policies, drive structural change, and empower communities to live healthier lives. Your coursework will include courses such as:
Human Service Administration
Advanced Community Organizing
Advanced Social Policy Analysis
FIELD EDUCATION (Agency-Based Practice Education)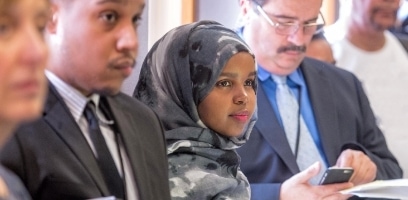 Through partnerships with agencies like District of Columbia Child and Family Services Agency, Far Southeast Family Strengthening Collaborative, Central Union Mission, DC Public Schools, and our own Howard University Hospital, the School of Social Work has been strengthening communities in Washington, DC, since its founding.
You will do the same in your own community as you work to complete your online MSW degree. As you progress through the curriculum, you will participate in field education in settings that align with your chosen concentration. Your practice education may include some virtual experiences.
We've designed a field education experience that allows you to:
Reduce the stress of finding placements. Our placement team will partner with you to find convenient and reputable agencies.
Put your skills into practice sooner. As you learn new techniques and principles in class, you'll be able to apply them in your work with clients.
Expand your professional network. You'll be supervised by licensed practitioners who will provide real-time feedback and become trusted mentors.
Direct vs. Macro
Practice
As you plan your future in the field of social work, explore these common practice areas to learn which ones align with your personal goals and career interests.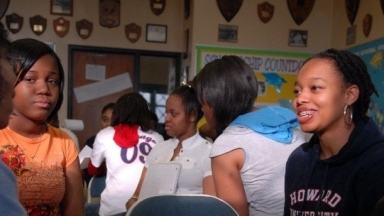 Direct practice social workers enhance the well-being of individuals, families and small groups.
With skills in diagnosis and assessment, treatment, and prevention, these practitioners help people meet developmental needs, accomplish life tasks and interact with resource systems. They may work in community organizations, child welfare systems or clinically oriented settings such as hospitals and mental health clinics.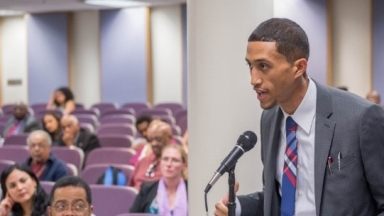 Macro practice social workers transform systems in pursuit of social justice and human rights.
These practitioners advocate for policies, opportunities and services that empower African Americans and other culturally diverse populations. They may work in organizations that focus on program development and evaluation, policy analysis, legislative advocacy and community organizing.
Empower and Strengthen Your Community
Find your place in a social work community that spans generations. Request information and a member of our admissions team will get in touch with more information.
Access All That Howard Has to Offer, Online

Participate in live class sessions where you'll discuss key social work topics with professors who know you by name.

Collaborate with peers and professors in real time with breakout rooms and live chat.

Reach your support teams — tech support, placement services and academic advisors — quickly in the mobile app.
Build a network of Bison across the country that will sustain and uplift you beyond your time in the online MSW program.

Organize and manage coursework, grades, your class schedule and field placement hours on a streamlined dashboard.

Personalize your study sessions with searchable class transcripts, offline mode, dark mode and more.
The Howard University School of Social Work offers multiple ways to earn your degree. Explore our on-campus MSW program.
Howard Faculty
Our faculty are researchers and educators who build upon the legacy of Dr. Inabel Burns Lindsay, the founding dean of the School of Social Work. They are committed to affirming their students' lived experiences, and have created a classroom environment where students are challenged to grow while still sustaining their health and the health of their communities.
ON RESILIENCE
"Sometimes, resilience is championed, [but we see it as] an additional burden of how much more people have had to go through. We want our students to be healthy, not resilient."
– Associate Dean Tracy Whitaker
ON LEADERSHIP
"Leadership is about being prepared to take the hit and keep on standing on [your] principles and fighting for social justice. [Leaders] persevere, despite everything that [is] thrown at [them]."
– Dean Sandra Edmonds Crewe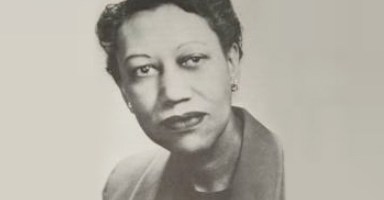 ON LEGACY
"Being [here] is especially fulfilling because we stand on the shoulders of giants such as founding dean Inabel Burns Lindsay. She modeled for us the relentless pursuit of solutions for our clients."
– Dr. Altaf Husain, Associate Professor

Change Lives as a Howard-Prepared Leader
Our online MSW program is transformative for our students — and the communities they serve. Fill out our form to learn how you can join us.