About 2U, Inc.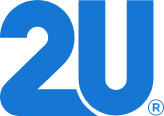 Eliminating the back row in higher education is not just a metaphor—it's 2U's mission. For more than a decade, 2U, a global leader in education technology, has been a trusted partner and brand steward of great universities. 2U builds, delivers, and supports more than 300 digital and in-person educational offerings, including degrees, professional certificates, Trilogy-powered boot camps, and GetSmarter short courses.
From day one, 2U has always believed that universities are unparalleled engines of social and economic mobility. That's why partnerships with great institutions of higher learning are central to its model. By combining the world-class faculty, curriculum and teaching from their partners with 2U's proprietary operating system—2UOS—and industry-leading expertise in technology, digital marketing, accessibility, privacy, clinical placements, and data architecture, the company is able to jointly build sustainable programs that deliver high quality, life-changing outcomes for learners.
2U also partners with leading companies like LinkedIn to provide valuable education-enhancing benefits to individuals enrolled in 2U-powered programs.